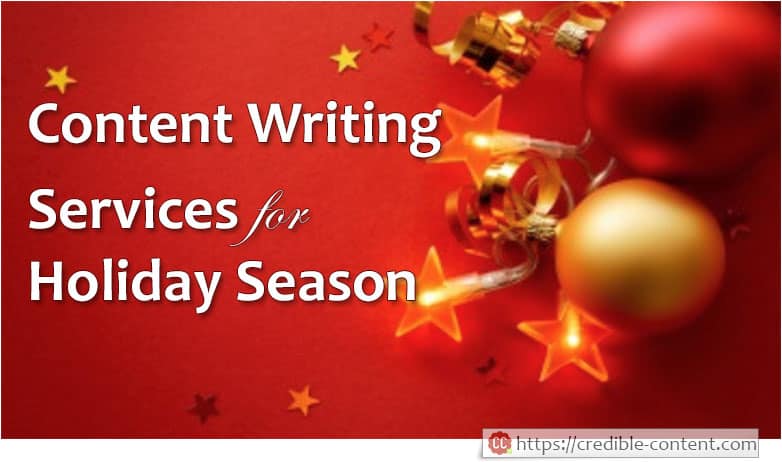 I'm offering special content writing services for the upcoming holiday season to help you generate more leads and make more sales. The good thing about the holiday season is that people are eager to make purchases not just for their own use, but also as gifts. All sorts of things are bought and gifted. There are zillions of websites selling zillions of products at highly competitive rates. The problem these days is not about which website offers what products and services (they are more or less the same) the problem is, how to remain in front of your prospective customers and clients.
What sort of content writing services you need during holiday season
During the holiday season your business may require the following content writing services:
Blogging on an ongoing basis
Writing informative articles to help people make better decisions before making bigger purchases
Just spread goodwill by sharing your own experience with your visitors
Publishing guest blog posts on other blogs and websites to generate more targeted traffic
Improving your search engine rankings for the relevant keywords because people might be looking for your products or services related to the festivities involved
Running multiple email marketing campaigns to send exciting offers directly to your leads
Creating holiday-season-related themed content that can be shared on social networking websites
The basic idea is to fill up your blog and website with lots of relevant content. For instance, if Christmas is approaching, you can have lots of content around the festival with a unique twist that connects the events of the festival with your product or service.
How my content writing services can help you get more sales during the holiday season
There are 2 ways you can promote your products and services:
Through advertising
Through content marketing
Advertising can get you instant exposure but it is getting less and less effective as people don't pay much attention to conventional advertising. It shouldn't be ruled out because there are many channels like PPC on search engines as well as social networking websites but still, it is way too expensive for small and medium-sized businesses and most of the methods employed are quite unscientific.
My content writing services can help you convey your message more compellingly and at the same time drastically bring down your marketing costs during the holiday season.
Just imagine, if you want to invest in a PPC campaign you have to pay for every click. If you pay for exposure, you pay for every set of exposure. You are constantly paying and you aren't even sure how much of it is actually going to convert into leads and sales.
Instead of telling people what they should buy, you need to suggest to them. And this suggestion doesn't need to come directly from you. Ideally it should come from people who have used your services and products and really liked them. It should also come via inbound traffic. My content writing services will help you increase the level of engagement and get more inbound traffic.
Why would people read content rather than have fun? Good point.
Holiday season means more holidays, and for many people, it means more time. More and more people are spending time online interacting with friends, finding useful information to get good bargains or looking for recommendations, which is not possible if they solely depend on advertisements.
Think from your own point of view: would you rather purchase a product after reading a comprehensive, informative blog post or by simply coming across an advertisement on some random website? Would you trust your friend on Facebook or would you trust a randomly appearing banner ad if you want to purchase something as expensive as a camera?
People are emotional during holiday season
This is primarily why brand advertising doesn't help you much. They need to read inspirational stories. They need to know how your product or service actually impacts people's lives. For instance, if your website sells baby dresses you can talk about how one of your dresses helped the babies of one of your customers get the "best dressed baby" award during the Christmas celebrations in one of the neighborhood malls (just an example). You can come up with emotionally enervating stories so that people can connect to you.
Content writing services with timely delivery of relevant content
Timely delivery is very important during the holiday season because it comes and then it goes extremely fast. If you need a blog post today, you need it today and not next week. If you hire my content writing services you will receive timely content totally tailored to this particular holiday season with no delay and confusions.
Want to know more about my services? Do contact me today and I will send you all the relevant details.